Vagamon is known for its lush green landscapes, cool climate, and serene ambiance, making it a popular destination for nature lovers and tourists seeking a peaceful getaway. Vagamon is a popular hill station located in the Indian state of Kerala. It is situated in the Idukki district, approximately 1,100 meters above sea level.
Vagamon Lake
Vagamon Lake, in the lovely town of Vagamon, Kerala, is a beautiful and calm place. It's like a peaceful oasis surrounded by green hills and fields. People come here to go on boat rides and enjoy the stunning views. It's a perfect spot for picnics and relaxing away from the busy city life. Whether you're a local or a visitor, Vagamon Lake is a peaceful and inviting place to connect with nature and find some serenity.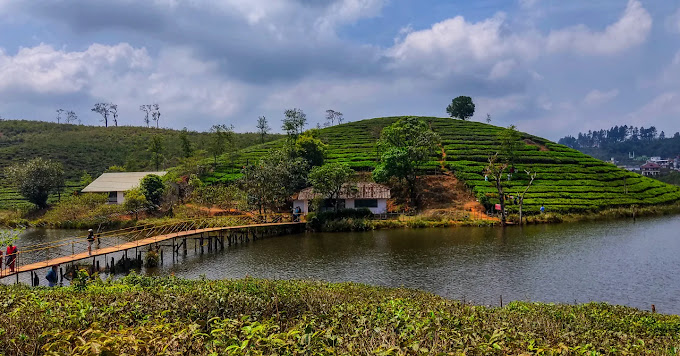 Vagavanam Ecotourism sliding Waterfall Kerala
Vagavanam Ecotourism in Vagamon is a remarkable destination that offers a unique blend of adventure and environmental conservation.
It's in the beautiful Western Ghats of Kerala, India. You can explore the forests, go on hikes, and see stunning waterfalls while taking care of the environment. Vagavanam is all about responsible tourism, helping the environment, and supporting local communities. It's a peaceful spot to relax and connect with nature while doing your part to protect it. So, if you're looking for an eco-friendly and enriching travel experience, Vagavanam in Vagamon is the place to be!
For Vagavanam trekking, ticket rate is 155INR for Indians and 305INR for Foreigners. The trek begins from Idukki arch dam wildlife sanctuary and will last for 3 hours only.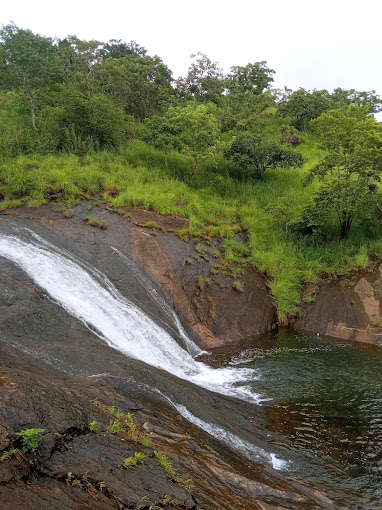 Uluppooni Wildlife Sanctuary
Uluppooni Wildlife Sanctuary in Vagamon, Kerala, is like a natural paradise covering a big area. It's famous for its lush forests, clear streams, and beautiful meadows. Many animals like elephants, deer, tigers, and birds can be seen here. People love to go trekking in this sanctuary to discover its hidden secrets. It's a peaceful place where you can enjoy nature's beauty. If you visit, you'll experience the wonder of Kerala's wildlife and have an amazing time in this natural wonderland.
The entry fee to Uluppooni Wildlife Sanctuary is free. This sanctuary is open from 9:00 AM TO 6:00 PM.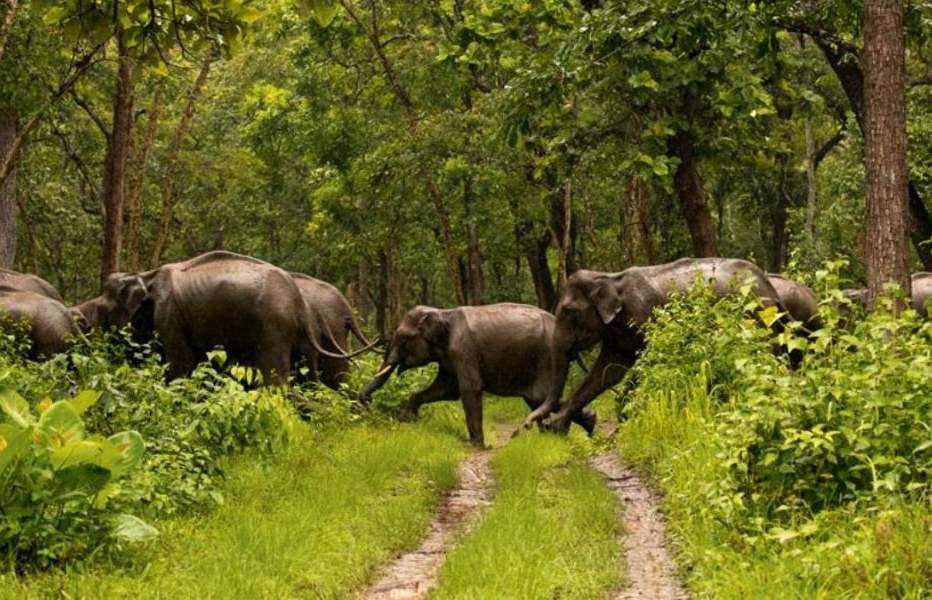 Kottathavalam Waterfalls in Vagamon
This waterfall in Vagamon, Kerala, is a beautiful place in nature. It's like a hidden treasure. The waterfall is like a giant water slide coming down from a big green hill. All around, there are lots of trees and plants. You can swim in the clean water pool at the bottom. Also a feel of natural infinity pool is awaiting you there.
To get there, you'll take a nice walk through the forest. It's perfect if you love nature or just want a peaceful getaway. Kottathavalam Waterfalls is a place where you can relax and have fun in the middle of Vagamon's wild and natural beauty.
This place is also known for its view point [Kottathavalam Waterfalls viewpoint] which is a popular hiking area in Vagamon.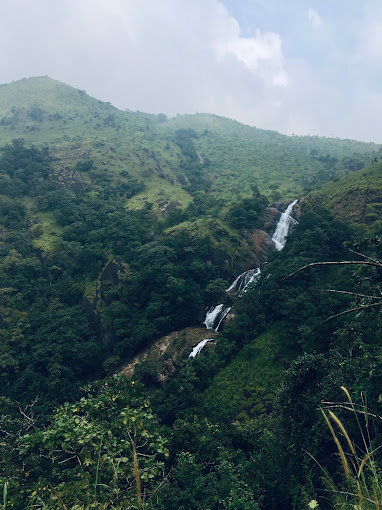 Thangal Para
Thangal Para in Vagamon is a peaceful spot surrounded by beautiful hills in Kerala, India. People come here to feel calm and close to nature. It's special because it's where a beloved saint named Sheikh Fariduddin is buried. The place has lovely green fields and amazing views of the mountains. Thangal Para is a great place to relax, think, and enjoy the natural beauty. It's open to everyone, no matter what their beliefs are. So, if you're in Vagamon, don't miss a visit to this special and serene place.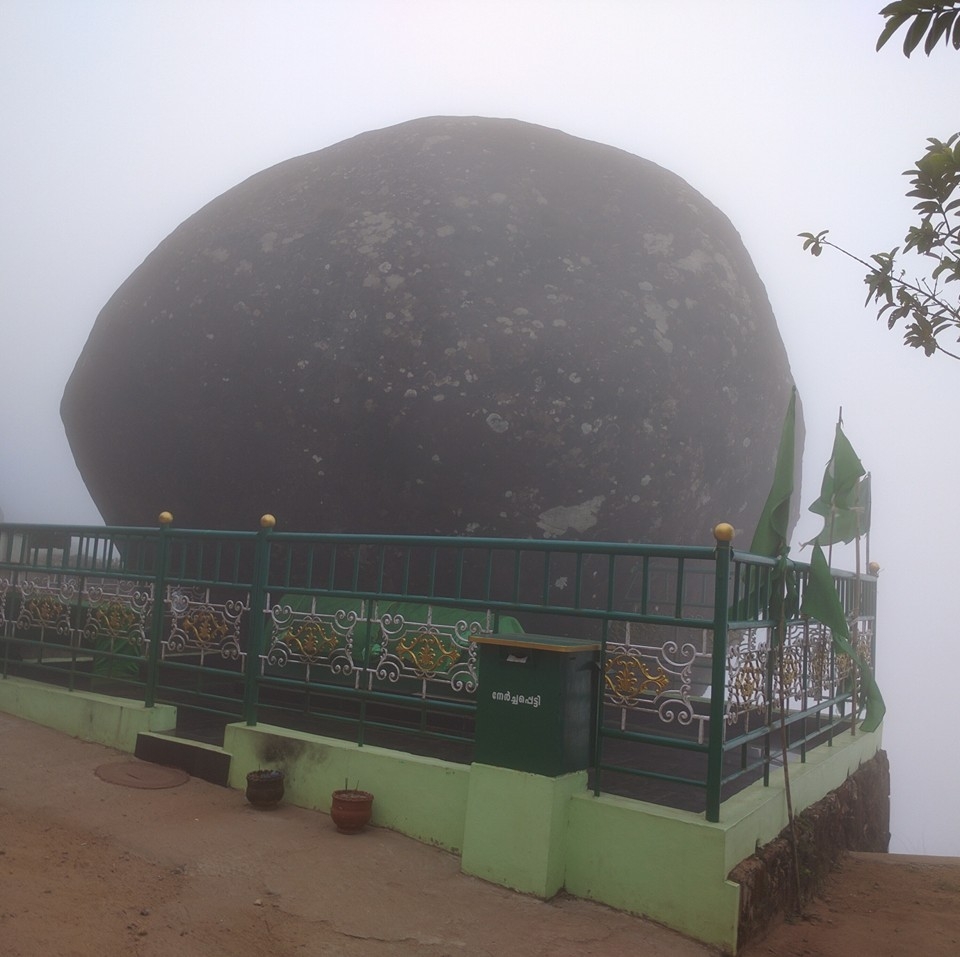 Murugan Para
Murugan Para in Vagamon is a special place tucked away in the beautiful hills of Kerala, India. It's famous for its natural beauty and its connection to Lord Murugan, a Hindu God known for bravery. At this spot, you'll find a tall statue of Lord Murugan that attracts both religious folks and tourists. The surroundings are filled with greenery and misty hills, creating a peaceful atmosphere for people who want to find some inner peace or simply enjoy nature's beauty. The views of the Western Ghats from here are simply stunning, making it an ideal place for meditation and self-reflection. So, if you're in Vagamon, make sure to visit Murugan Para for a blend of spirituality and natural wonder.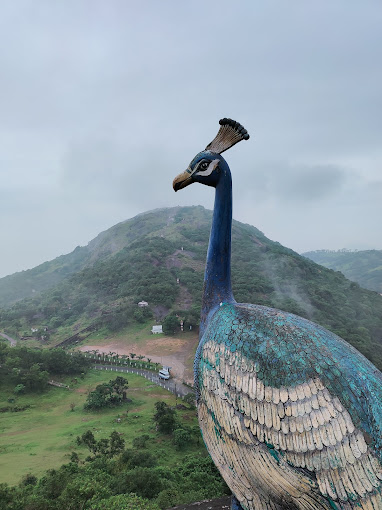 Kurishumala
Kurishumala, in Vagamon, Kerala, is a special place known as the "Mountain of the Cross." It's important for people who follow Christianity. At the top of the hill, there's a big cross, and from there, you can see beautiful views of the green hills around. Many people visit this peaceful spot for religious reasons, to pray and find inner peace. To get there, you can go on a trek, which is like a nature hike. Kurishumala is a place where you can connect with your spirituality and enjoy the natural beauty of Vagamon. It's a lovely and meaningful place to explore.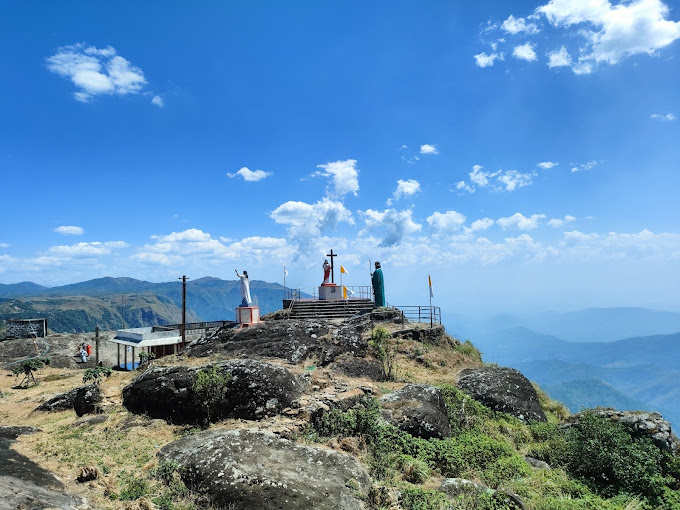 Vagamon orchidarium
Vagamon's Orchidarium is like a magical garden in Kerala, India. In this special place, you'll find lots of beautiful and unique orchid flowers. They come in all sorts of colors and shapes, making it a colorful and fragrant paradise for nature lovers. You can take a peaceful walk through the gardens and learn about how these orchids grow and why they're important to protect. It's a wonderful place to enjoy the beauty of nature and learn something new. So, if you're in Vagamon, make sure to visit the Orchidarium for a delightful and educational experience.
Vagamon orchidarium is open on all days.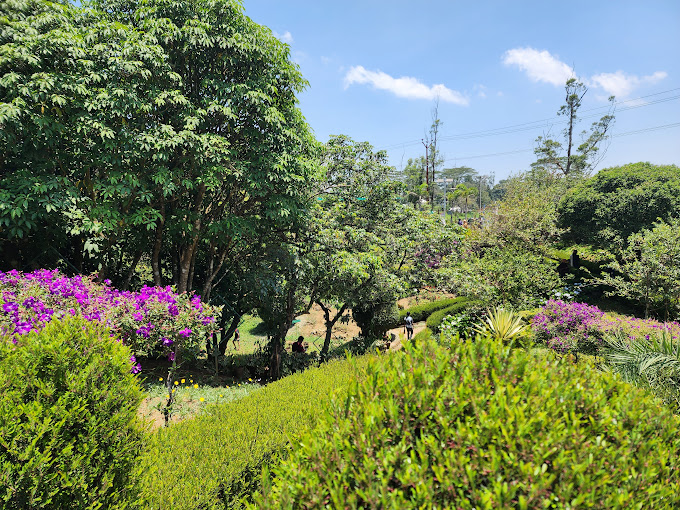 Suicide Point near to Glass bridge in Vagamon
Suicide Point in Vagamon is a picturesque but hauntingly named location in Vagamon. It offers breathtaking views of the mist-covered valleys and lush green hills, making it a popular tourist spot. Despite its unsettling name, the place is serene and ideal for reflection and photography. It earned its name due to its steep cliffs, which are indeed dangerous, emphasizing the importance of safety precautions.
While it's a captivating destination for nature enthusiasts, it's crucial to remember the significance of mental health and support, promoting positivity and appreciation for life while enjoying the stunning vistas Suicide Point has to offer.
The newly opened Glass bridge is location near Suicide point.
Entry fee to Vagamon Glass bridge is just 500INR.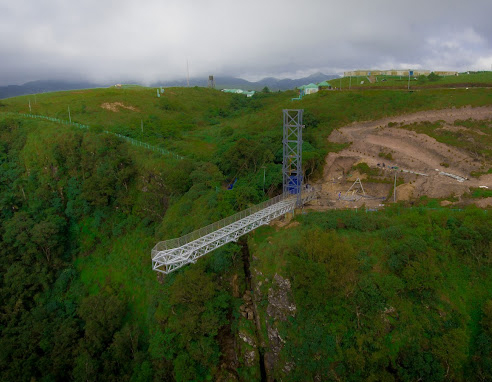 Vagamon pine forest
Vagamon's Pine Forests are like a magical forest in Kerala, India. These woods are full of tall pine trees that make the air smell really nice. It's a perfect place for people who love nature and hiking. You can stroll along peaceful paths, surrounded by the beauty of the forest. Plus, you'll get amazing views of the hills and fields around. It's a peaceful spot where you can relax, take a leisurely walk, and feel the calming presence of nature all around you. If you're in Vagamon, don't miss a chance to visit these lovely Pine Forests.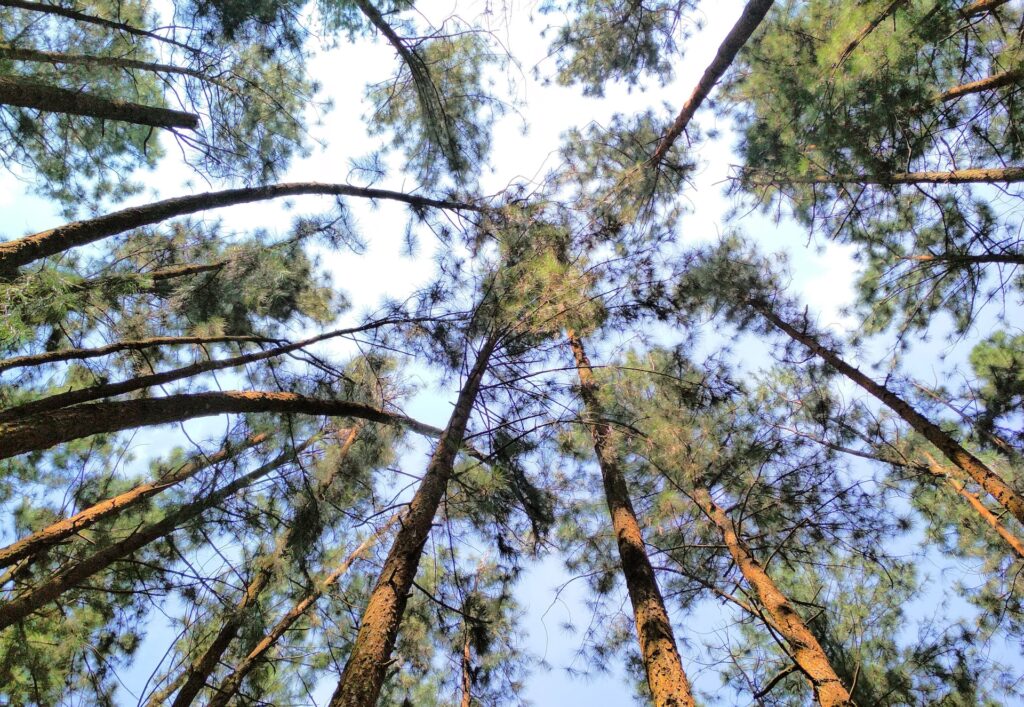 Green Meadows
This place in Vagamon, is like a breathtaking painting of nature. It's a place with lots of green hills covered in soft, green grass. All around, you'll find thick forests and valleys filled with mist. It's a peaceful escape from the busy city, with fresh, cool air and the songs of birds to soothe your soul. If you like adventures, you can go trekking or even try paragliding here. Whether you want calm or excitement, Green Meadows in Vagamon has something special for everyone, making it a place you won't forget.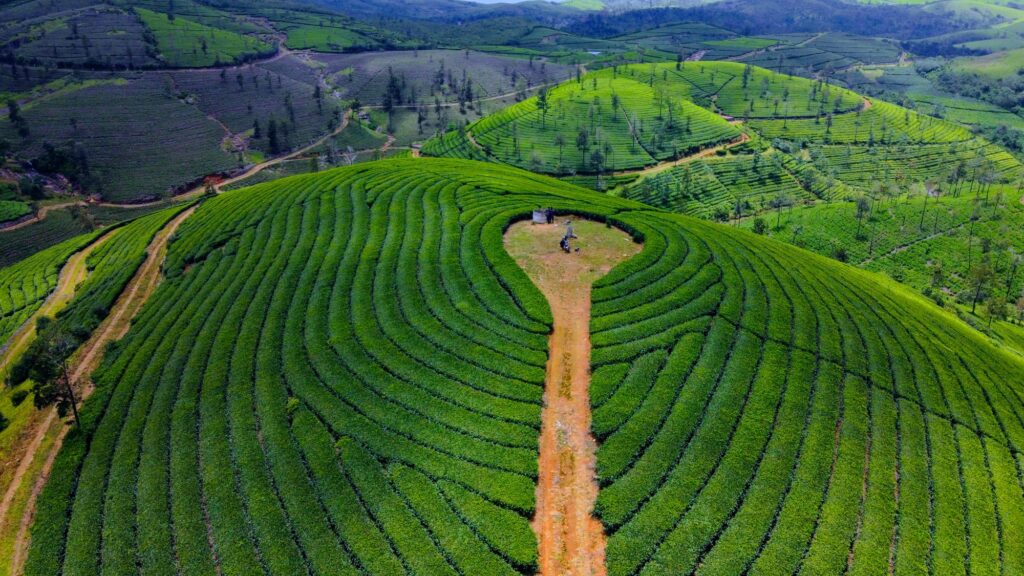 Evan Viewpoint
Evan Viewpoint in Vagamon, Kerala, is a peaceful place with stunning nature views. It's named after a kind local named Evan who let people visit this beautiful spot. Here, you can see lush green hills, valleys, and tea gardens. It's perfect for picnics, taking pictures, or just enjoying the quiet beauty of nature. Evan Viewpoint is a special place where you can escape from the city and connect with nature's tranquility. If you're in Vagamon, don't miss the chance to visit and relax in this scenic spot.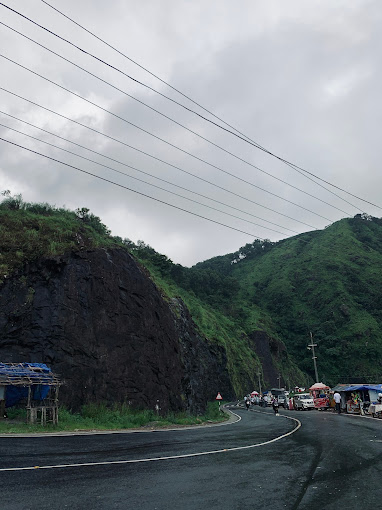 Karikkad Viewpoint
Karikkad Viewpoint in Vagamon, Kerala, is a stunning place in the mountains. You can reach it by taking a short hike. Once you're up there, you'll see breathtaking views of green valleys, hills, and forests. It's like a painting that changes colors throughout the year. The peacefulness and fresh air make it perfect for relaxing, meditating, or taking pictures. Karikkad Viewpoint is a must-visit spot for anyone who loves nature and wants to experience the beauty of Vagamon in its purest form.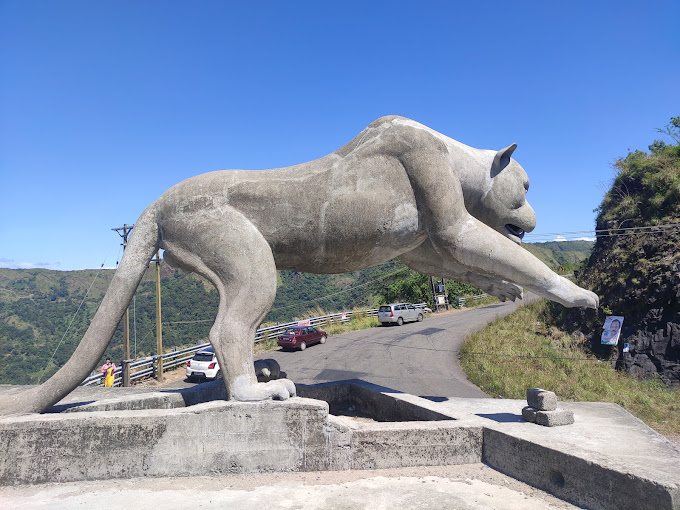 Kaithapathal View Point
Kaithapathal View Point in Vagamon, Kerala, is a beautiful place where you can see amazing views of the mountains. It's named after the kaithapathal trees that grow there. To reach this spot, you can take a nice walk through the green forests. Once you're there, you'll be treated to stunning sights of rolling hills, thick forests, and a peaceful valley below. This place is perfect for people who love nature and taking pictures. It lets you enjoy the incredible beauty of Vagamon.
A small tea shop is nearby, if you are walking up to this spot. Otherwise jeep safari is available to reach Kaithapathal View Point.
So, if you're in the area, don't miss the chance to visit Kaithapathal View Point and soak in the natural beauty.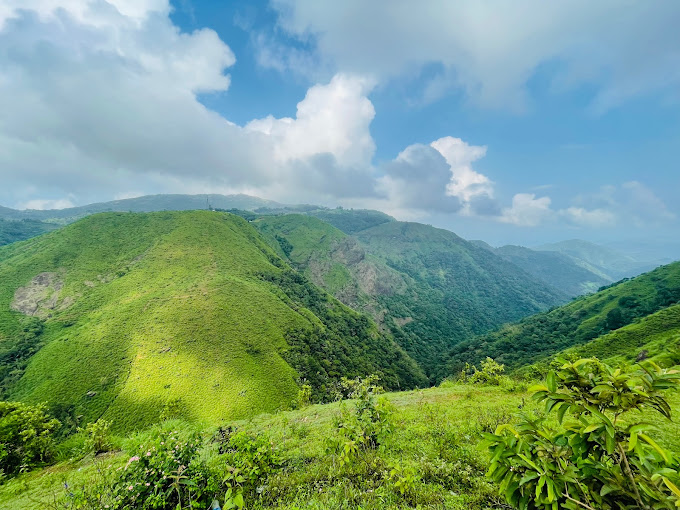 Kolahalamedu
This is a stunning hilltop that sits high above the land, about 3,500 feet up. From here, you can see amazing views of the nearby mountains and a big reservoir called Idukki. It's named "Kolahalamedu" because the mountain seems to echo the peace and quiet of nature. People love to come here for trekking and paragliding, making it a fun spot for adventure lovers. But even if you're not into thrill-seeking, the lush green surroundings and peaceful atmosphere make Kolahalamedu a beautiful place to simply enjoy nature's beauty and serenity.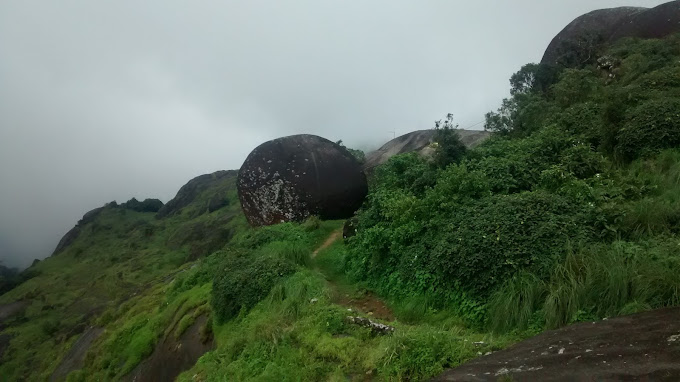 Kurishumala Ashram [Kurisumala Ashram Cistercian Abbey]
Kurishumala Ashram in Vagamon, Kerala, is a peaceful place founded by a monk from Belgium named Francis Acharya. It's a mix of Indian and Christian spiritual ideas. The ashram is famous for its calm atmosphere and beautiful surroundings, including a tall cross that shows its Christian connection. People come here for meditation, yoga, and to find inner peace in the midst of the lovely Western Ghats. Kurishumala Ashram is open to people of all faiths and encourages understanding among different beliefs. It's a special spot where spirituality and nature come together, making it a wonderful place to visit in Vagamon.
Kurishumala Ashram is open from 6AM to 6PM and silence is to be practiced by every visitor. Also, note that when the prayer is happening inside Ashram visitors will be requested to move to a nearby chapel for a few hours.
Also the farm in Kurishumala Ashram, as it is not open to visitors, leaves a curiosity in your minds.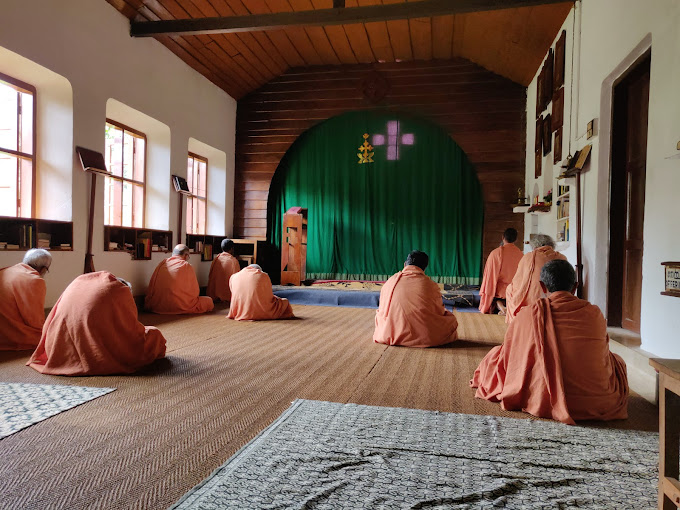 Kappippara Dam
Kappippara Dam in Vagamon, Kerala, is a lovely place. It's a big water reservoir made by people. It gives water to the area, but it's also a beautiful spot for tourists. The dam is surrounded by green hills and trees, making it a peaceful place to have a picnic. People can relax and enjoy nature there. So, if you visit Vagamon, don't forget to see Kappippara Dam – it's a peaceful and pretty spot where nature and practicality come together.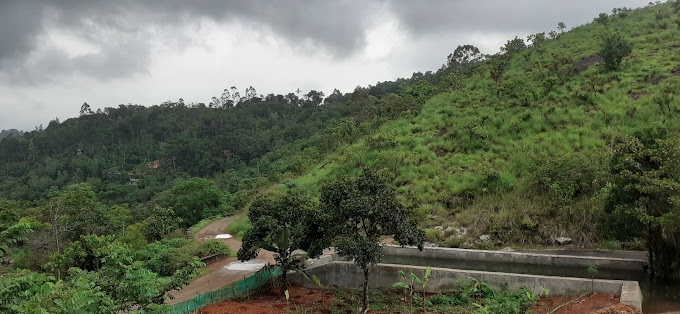 Karyad Top
Kariyad Top in Vagamon, Kerala, is a beautiful place on top of the hills. Imagine green tea gardens, meadows, and valleys covered in mist – that's what you'll see. It's perfect for nature lovers and people who like adventure, like trekking. You can also spot many different kinds of birds here if you're into birdwatching. Plus, you can enjoy the calmness of the place and try some delicious local food from nearby stalls. So, if you're in Vagamon, don't miss Kariyad Top – it's a fantastic place to experience the beauty of nature.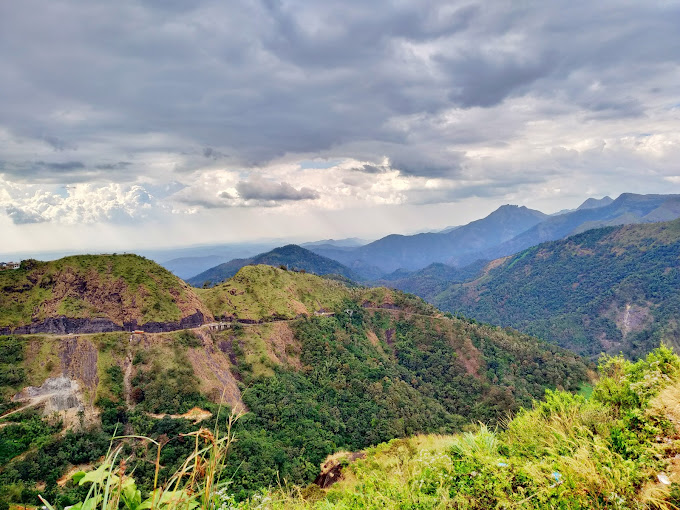 Chumbana Munambu
This is a beautiful scenic spot in Poonjar Vadakkekara, Kerala. It is a great viewpoint on the way to Vagamon through the Pullikanam Kanjar route. You can also hike to the Crucifix Hill (Chumbana Munambu) in Vagamon. It is one of the best places in Vagamon.
The viewpoint offers stunning views of the mountains and the road below. You can also climb to the top of Sreelakshmipara, which is near to the viewpoint. There is plenty of space to park your vehicle. The wind can be strong at the viewpoint, so be prepared. The morning climate is amazing, and the views are even better during the rainy or cloudy season. It is located about 10 kilometers from Vagamon.
The best time to visit is during the monsoon or winter seasons.
There is a small fee to enter the viewpoint.
There are no facilities at the viewpoint, so be sure to bring your own food and water.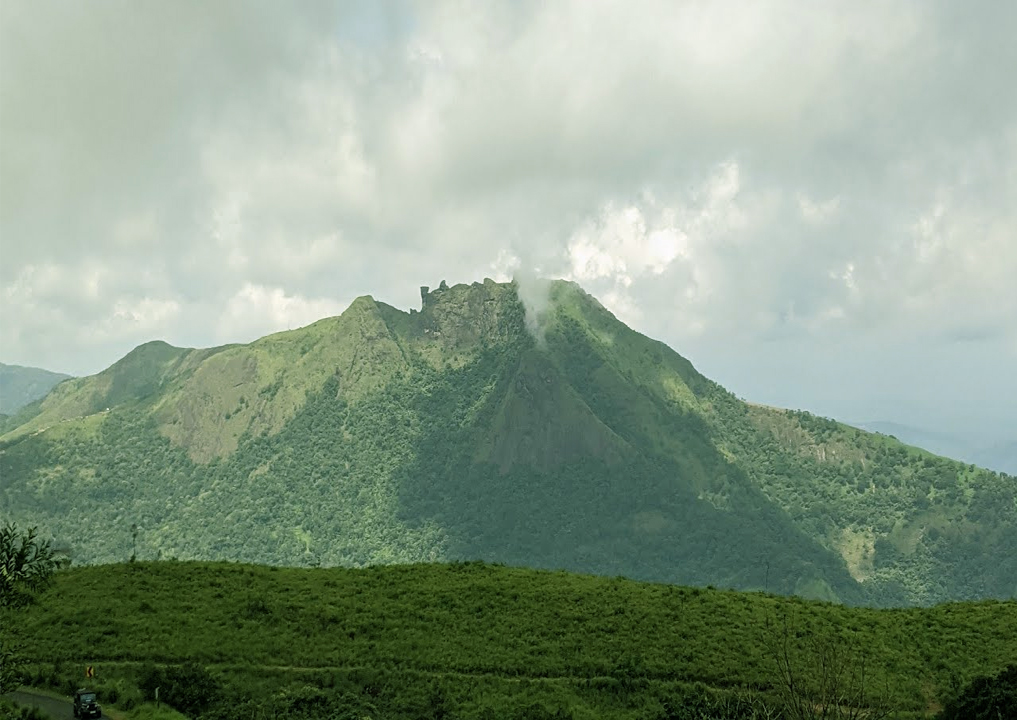 Marmala Waterfalls Vagamon
Located amidst dense forests, this is a popular spot for trekking and picnicking. The waterfall is particularly beautiful during the monsoon season.
The waterfall gushing from Karimbarakattu from a height of 200 feet is a sight that attracts everyone