Are you planning a houseboat ride through the backwaters?
Maybe the houseboat service will not be affordable. Here are the best cheap and reasonable boat ride services through the backwater.
In Alappy, there is one Government boat service available for passengers, and tourists can enjoy the backwater ride at an affordable price.
Government Boat Service for Tourists
There are three routes for the boat, and you can return from the same route to the destination.
Alappuzha-Kottayam – 3.00 hrs
Alappuzha-Nedumudi – 1 hrs
Alappuzha-Kavalam – 1.45 hrs
The best journey among these is Alappuzha-Kottayam. It will take around 3 hours journey and will cost you roughly 29 rupees.
You can see the timing for the boat service from the below list.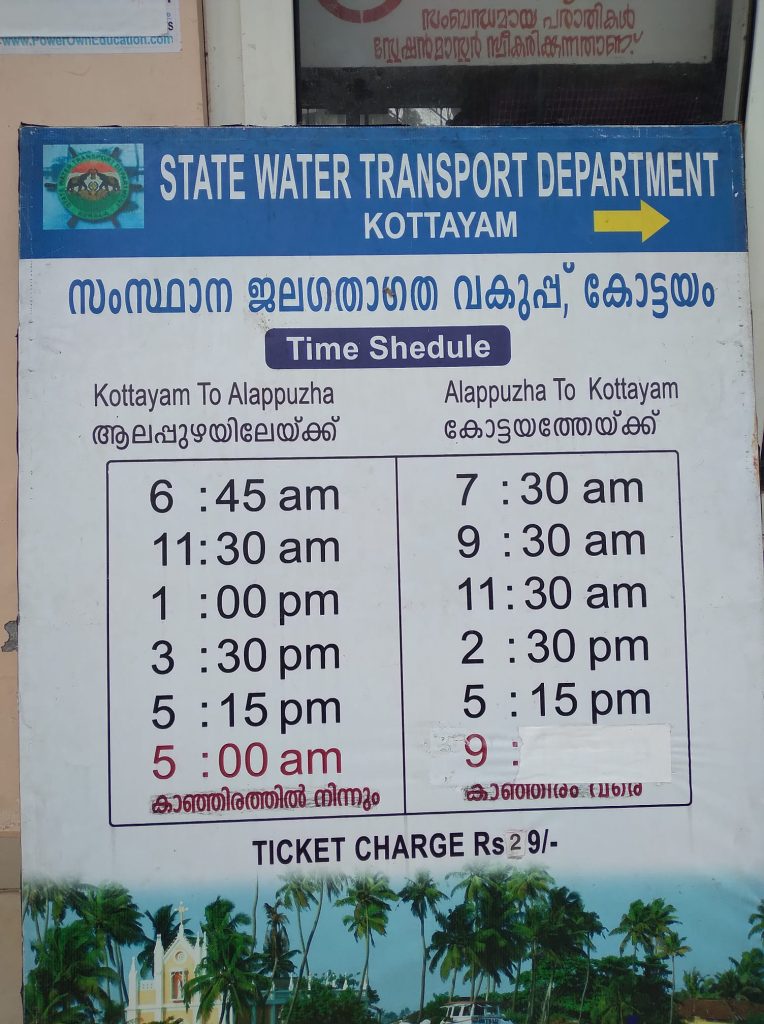 VEGA Boat Service in Alappy
This one is a complimentary service for tourists to enjoy the backwater ride. The journey begins from Alappuzha Station morning at 11.00 AM. It will go through Punnamada, Vembanad backwater, Muhamma, Pathiramanal, Kumarakom, "R" Block, Marthandam, Chithira, "C" Block, Kuppapuram, and finally back to Alappuzha.
The seat arrangement for the VEGA Boat is 40 A/C Seats and 80 Non A/C Seats.
There will be a 4-hour comfortable journey through the backwaters.
15 Minutes Break will be in the Pathiramanal for lunch and refreshments.
Ticket Fare
A/C Seat: Rs.600/- One side Journey: Rs.300/-
Non A/C Seat: Rs.400/- One Side Journey: Rs.200/-
Government Boat Service Timing from Alappuzha
| Sl. No. | Time | Departure | Arrival | Via |
| --- | --- | --- | --- | --- |
| 1 | 5.30 | Alappuzha | Krishnapuram | Kuppappuram, C-Block |
| 2 | 5.55 | Alappuzha | Kainakary Road, Pullathuseri (Punnamada) | North Pandichery (See Kuttanad) |
| 3 | 6.30 | Alappuzha | Ramankary | Kannitta, Ayiraveli |
| 4 | 6.45 | Alappuzha | Krishnapuram (Super) | C Block |
| 5 | 7.00 | Alappuzha | Kailasam | Kannitta, Venattukadu |
| 6 | 7.05 | Alappuzha | Kayalppuram | Soman Jetty, North Venattukadu |
| 7 | 7.15 | Alappuzha | Kottayam | Pullathusseri |
| 8 | 7.30 | Alappuzha | Nedumudy(Super) | Kannitta, Venattukadu |
| 9 | 8.00 | Alappuzha | Kidangara  Mill | C Block, Liscio |
| 10 | 8.20 | Alappuzha | Kainakary Road | Punjiri North (See Kuttanad) |
| 11 | 8.30 | Alappuzha | Nedumudy | Kannitta, Ayiraveli |
| 12 | 9.35 | Alappuzha | Kottayam | Kuppappuram, Pandisserry, Pattassery |
| 13 | 9.45 | Alappuzha | Grameena | Soman Jetty |
| 14 | 10.00 | Alappuzha | Nedumudy | Kannitta, Ayiraveli |
| 15 | 10.00 | Alappuzha | Krishnapuram | C Block,Liscio |
| 16 | 10.15 | Alappuzha | Krishnapuram | Pandiserry, Venattukad |
| 17 | 10.30 | Alappuzha | Kolllam (Tourist – Upper Deck) | |
| 18 | 10:45 | Alappuzha | Kainakary Road | Soman Jetty (See-Kuttanad) |
| 19 | 11.15 | Alappuzha | Krishnapuram (Super) | Kuppappuram, C-Block |
| 20 | 11.30 | Alappuzha | Kottayam | Soman Jetty, Kuppappuram, Pullathserry |
| 21 | 11.45 | Alappuzha | Venattukad | Kannitta |
| 22 | 12.00 | Alappuzha | Kainakary School | Kuppappuram – Panaykkal Todu |
| 23 | 12.30 | Alappuzha | Nedumudy (Super) | Kannitta, Ayiraveli |
| 24 | 12.30 | Alappuzha | Nedumudy | Kuppappuram – Venattukadu – Pandissery |
| 25 | 13.00 | Alappuzha | Pulincunnu | Kuppappuram – Pandissery – Venattukadu |
| 26 | 13.00 | Alappuzha | Michayel Church | Soman – Kuppappuram – C Block |
| 27 | 13.35 | Alappuzha | Kainakary Road | See Kuttanad |
| 28 | 13.40 | Alappuzha | Kandamkary Asramom | Kannitta – Nedumudy – Champakkulam |
| 29 | 13.45 | Alappuzha | Pulincunnu | Kuppappuram – Panakkal Todu – Venattukadu |
| 30 | 14.00 | Alappuzha | Krishnapuram | C-Block – Kuppappuram |
| 31 | 14.30 | Alappuzha | Kottayam | Kuppappuram – Chittira |
| 32 | 15.00 | Alappuzha | Krishnapuram | Kuppappuram – C Block |
| 33 | 15.00 | Alappuzha | Ayiraveli | Kannitta |
| 34 | 15.15 | Alappuzha | Kayalpuram | Kuppappuram, Pandichery Via Venattukad |
| 35 | 15.45 | Alappuzha | Nedumudy (Super) | Kannitta, Ayiraveli |
| 36 | 16.15 | Alappuzha | Krishnapuram (Super) | Kuppappuram, C Block |
| 37 | 16.20 | Alappuzha | Kannitta | Punjiri |
| 38 | 16.45 | Alappuzha | Nedumudy | Venattukadu |
| 39 | 16.45 | Alappuzha | Krishnapuram | Soman – Kuppappuram – C Block |
| 40 | 16.45 | Alappuzha | Kainakary Road | Kannitta (See Kuttanad) |
| 41 | 17.15 | Alappuzha | Kottayam | Kuppappuram – Pandissery |
| 42 | 17.30 | Alappuzha | Nedumudy | Kannitta, Venattukadu |
| 43 | 17.45 | Alappuzha | Krishnapuram | Kuppappuram, C Block |
| 44 | 18.20 | Alappuzha | Nedumudy | Kannitta, Ayiraveli |
| 45 | 18.30 | Alappuzha | Cherukara | Soman, Pullathuserry |
| 46 | 18.45 | Alappuzha | Nedumudy (Super) | Kuppappuram – Pandiserry – Venattukadu |
| 47 | 19.15 | Alappuzha | Michle Church | C Block, Kavalam |
| 48 | 19.40 | Alappuzha | Nedumudy | Kannitta, Ayiraveli |
| 49 | 19.45 | Alappuzha | Krishnapuram (Super) | Kuppappuram |
| 50 | 20.00 | Alappuzha | Venattukad | Pandiserry, Venattukad |
| 51 | 20.45 | Alappuzha | Krishnapuram | Kuppappuram, C Block |
| 52 | 20.45 | Alappuzha | Ayiraveli | Pandiserry |
| 53 | 21.15 | Alappuzha | Kanjiram | Kuppappuram – Pandissery – Pullathuserry |
| 54 | 21.30 | Alappuzha | Venattukad | Kannitta |